Jenkins Elementary School
Opened: August 2019
Address: 4060 Prince William Pkwy., Woodbridge, VA 22192
Phone: 571-343-5580
Fax: 703-791-8602
For contacting a teacher: Find the teacher's email address in the staff directory and send them a message.
Our Namesake: John D. Jenkins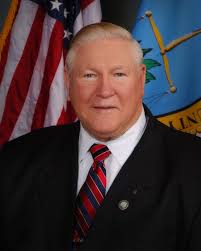 John D. Jenkins was the longest-serving member in the history of the Prince William Board of County Supervisors. He was appointed in 1982 to fill the Neabsco District seat vacated by James J. McCoart, and subsequently elected by the people of the Neabsco District in every election following.
He was very supportive of students and schools within Prince William County, attending numerous school and Division events, as well as personally recognizing the individual achievements of thousands of students.
He was also instrumental in the construction of hundreds of public works projects including: the Prince William Parkway, Dale City Recreation Center, the James J. McCoart Administration Building, the G. Richard Pfitzner Stadium, the Hilda Barg Homeless Prevention Center, the Gar-Field Police Station, the Chinn Park Regional Library and Fitness Center, the Freedom Aquatics Center, and other roads, parks, libraries, fire stations, and schools.
He proudly served his country as a veteran of the U.S. Army, where he served two tours in Vietnam, earned the Bronze Star with Oak Leaf Cluster, and retired as a Lieutenant Colonel after a distinguished 24-year career.
Jenkins and his wife, Ernestine Stewart Jenkins, settled in Dale City in 1973, and raised three sons - Warren, Mark, and Gordon - 14 grandchildren, and 12 great-grandchildren.